Why You Should Choose DiMarco Araujo Montevideo for Your Workers Compensation Case
We have a reputation for success. With more than 40 years of legal experience, our firm is known for our hard work, commitment to the cause and exceptional case results.
We are a full-service law firm. Our workers' compensation attorneys can handle every aspect of your case while you focus on healing. We can identify the defendant, counsel you on your legal options and demand fair compensation on your behalf.
Our work injury lawyers in Riverside have the resources to fight for maximum compensation. We provide not only a group of experienced work injury lawyers but also access to accident reconstructionists, economists, doctors, vocational experts and others.
We accept work injury clients in Riverside on a contingency fee basis. You will not have to pay us upfront to retain our services. You will only pay legal fees if and when we secure a compensatory award for you.
How We Handle Riverside Work Injury Cases
Most injured workers in Riverside are only aware of one process for obtaining financial relief: a workers' compensation claim. At DiMarco | Araujo | Montevideo, however, we recognize two types of claims that can benefit injured employees: workers' compensation and a third-party civil action. Our law firm accepts both types of cases to streamline your compensation claim. Rather than having to work with multiple attorneys or law firms, our Riverside work injury lawyers can strategically handle both claims for you in-house.
When you retain our firm, you benefit from our extensive knowledge of both types of compensation claims. We can review your individual case and let you know which route we believe is best for you. Then, our staff members can come together to build as strong a case as possible on your behalf. We understand you may not know much about workplace injuries or injured workers' rights, which is why we offer free consultations so you can ask questions and get trustworthy answers.
After your initial consultation, our Riverside County work injury lawyers will work together to develop a strategy for claims negotiation and/or litigation. We can contact medical experts to serve as witnesses in your case, gather key evidence, get copies of important documents and take other steps to build your case. Then, we can go up against an insurance company or another defendant on your behalf, demanding fair and full financial recovery. Our law firm will be there for you every step of the way.
California Workers' Compensation Claim Process
The workers' compensation system should be simple. It should be easy to file your claim and obtain fair compensation for your losses. Sadly, this is not always true in California. An employer or insurance company could dispute liability to try to avoid paying you. They could also question your claim due to an increase in workers' compensation fraud. Insurance companies in California deny valid workers' compensation claims each year. A Riverside workers' compensation attorney from DiMarco | Araujo | Montevideo could help you through the claims process.
Notify your employer. You have a strict 30-day limit on notifying your employer of the accident and injury. Missing this deadline could compromise your ability to receive workers' compensation benefits.
Request a copy of your completed DWC1 form. Your employer should fill out the Initial Report of Injury form and submit it to the insurance company on your behalf. Request a copy of the completed form for your records.
Wait for a response. The workers' compensation insurance provider must notify you in writing of its decision to approve or deny your claim within 14 of receiving the form. If it needs more time to investigate, it must give a valid reason.
Appeal a denial. If the insurer denies your workers' compensation claim, one of our lawyers can help you file an appeal. An appeal asks the insurance company to reconsider its decision.
Negotiate your claim. In some cases, the insurer accepts the claim but does not offer a fair or reasonable amount. You may need a lawyer to help negotiate a better settlement.
Filing a workers' compensation claim may not require you to prove someone's fault or employer negligence for your injuries, but it does come with complicated legal processes. Hiring a work injury lawyer to help you with the claims process from the beginning can protect your rights and ensure you submit the paperwork correctly the first time. A Riverside work injury lawyer from DiMarco | Araujo | Montevideo may be able to speed up your claim and improve the odds of receiving a fair settlement offer.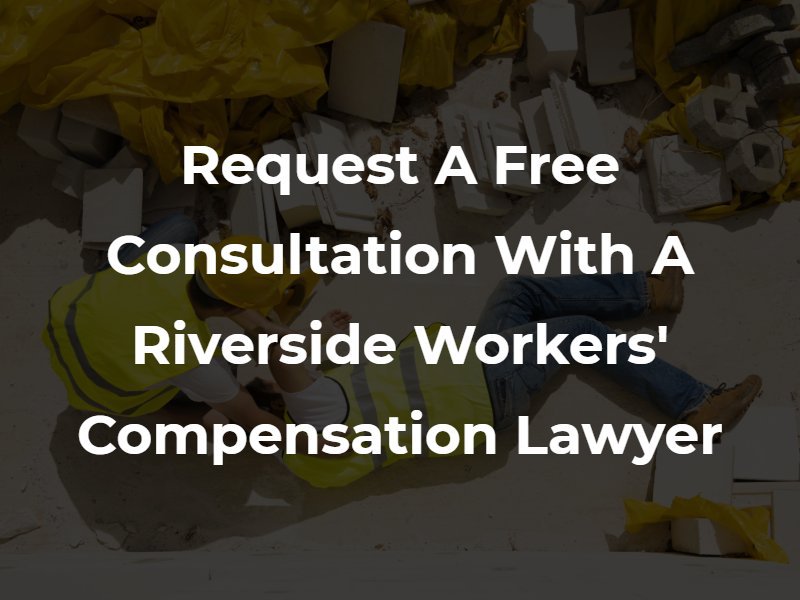 How Our Experience Can Help
Dealing with a workers' compensation insurance company may not be easy alone. An insurance claims adjuster may believe he or she can take advantage of your inexperience to offer a low settlement amount or unfairly deny your claim. If you do not fully understand your rights in California, these tactics might work to rob you of a fair case outcome. If you hire an attorney from DiMarco | Araujo | Montevideo, on the other hand, we can force an insurer to treat your claim fairly.
Most insurance companies will immediately change the way it treats claims upon discovering the client has hired a workers' compensation lawyer. Insurance companies know lawyers could take them to court – an expensive process most insurers wish to avoid. Rather than taking the case to trial, the insurance company may increase its original settlement offer to better suit your needs. If not, one of our trial attorneys can take the insurer and/or other defendants to court in pursuit of fair financial recovery.
Our experience in the work injury practice area could help you file an initial workers' compensation claim, litigate an appeal, contest a denied application, negotiate a fair settlement offer and potentially file a personal injury claim. We have reliable work injury attorneys in Riverside and connections in this practice area to help any way we can.
Are Employers Allowed to Retaliate Against Me If I File A Riverside Workers Compensation Claim?
Never let the fear of employer retaliation prevent you from exercising your rights as an injured worker. The California workers' compensation system is in place to benefit you. You have every right to file an injury claim without fear of retaliation from your boss in the form of job termination, demotion, change of schedule, pay cut or another adverse action. Sadly, some employers take their frustrations out on injured workers by handling their claims in bad faith. This could lead to unfairly delayed or denied workers' compensation suits.
If you experienced any type of punishment from your employer for filing a workers' compensation claim, you may have the right to bring a civil lawsuit against your employer. A retaliation claim could force your employer to reinstate your job, revise the way it treated your workers' compensation request and take other steps to right the wrongs against you. The Riverside work injury attorneys at DiMarco | Araujo | Montevideo can help you with a retaliation lawsuit as well as your original workers' compensation case in California.
What Additional Claims Can I File After Sustaining A Riverside Work Injury?
Workers' compensation may not be your only outlet for financial recovery after sustaining a work injury in Southern California. Workers' compensation offers no-fault benefits at a price – there are limits to how much the system will give you for your losses. Workers' compensation will only reimburse you for two-thirds of your average weekly lost wages, for example. For this reason, it could be in your best interest to file a civil third-party lawsuit instead of or in addition to a workers' compensation claim.
A third-party lawsuit claims someone else negligently, recklessly or maliciously caused your accident. If you accept workers' compensation benefits, you automatically forfeit your right to bring a personal injury claim against your employer. You may still, however, bring a lawsuit against a third party, such as a product manufacturer, contractor, property owner or the City of Riverside. If a third party caused your injuries, you may qualify for financial relief from both the workers' compensation system and an injury lawsuit.
If you believe your employer caused your recent injuries, do not accept a workers' compensation settlement until you have spoken to an attorney at DiMarco | Araujo | Montevideo. You cannot file a negligence claim against your employer after you accept a workers' compensation settlement. Our law office can review your case and help you pursue the best type of legal action for your specific situation. You may be eligible for compensation from one or both types of claims for your Riverside work injury. Get the legal representation you deserve today.