Workers' compensation is a familiar topic on every employee's mind. Even if you have never been the victim of a work injury, you probably have a basic understanding of the steps needed to get adequate medical attention and benefits.
That being said, for as vast as the internet is, there aren't many good resources that have compiled facts and helpful statistics that fully illustrate the scope of workers' compensation in the United States. Until now.
We've compiled an extensive list of some of facts and statistics below, as they pertain to work injury and workers' compensation claims in the United States and California.
If you have specific questions you'd like to get answered, speak to one of our Riverside workers compensation lawyers now.
Workers' Compensation Statistics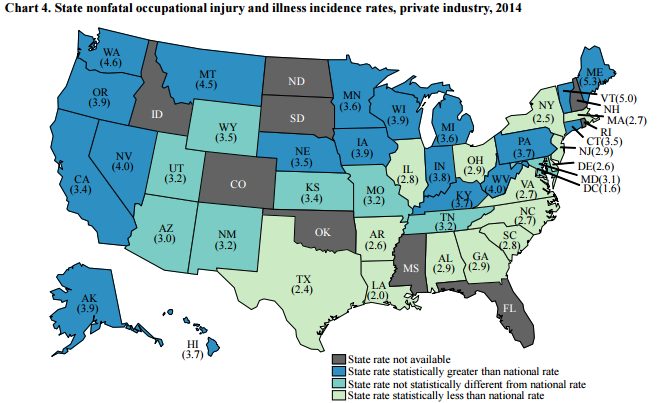 With the creation of OSHA, worker injuries and illnesses are down on average – from 10.9 incidents per 100 workers in 1972 to 3.3 per 100 in 2014.
4,821 workers were killed on the job in 2014 with 3.0 million more suffering nonfatal injuries and illnesses.
Most Dangerous Industries (2014)  [visualizer id="515″]
According to the Travelers Injury Impact Report, the most common accidents in workers compensation claims include: 32% material handling, 16% slips, trips and falls, 10% being struck or colliding with object, 7%, accidents involving tools, 4% Cumulative trauma, 31% all other.
Most common injuries in claims: 30% strains/sprains, 19% cuts or punctures, 12% contusions, 5% inflammation (tendinitis), 5% fractures, 29% all other.
Average days from work by injury: Strains and sprains – 57, Cuts/punctures – 24, Contusions – 27, Inflammation – 91, Fractures – 78
Average cost of most frequent injuries: Strains $17,000, Cut/punctures $8,200, Contusions $8,000, Inflammation $24,500, Fractures $42,400
The most costly injuries are not the most common: Amputation $102,500, Dislocation $97,100, Electric Shock $55,200, Crushing $54,600, Multiple Trauma $50,000
States with highest premiums: California – $3.48 per $100, Connecticut – $2.87 per $100, New Jersey – $2.82 per $100, New York – $2.75 per $100, Alaska – $2.68 per $100
Employer Spending on Workers' Compensation by Industry (% of total employer compensation costs): Construction – 4.4%, Goods-producing – 2.5%, Manufacturing – 1.8%, Services – 1.3%, All industries – 1.6%
Worker Incident Rate and Median Days Away From Work By Age (2012):
Despite common belief, only 1-2% of workers compensation claims are fraudulent.
How much each limb is worth (National Average): Arm – $169,878, Leg – $153,221, Hand – $144,930, Thumb – $42,432, Index Finger – $24,645, Middle Finger – $20,996, Foot – $91,779, Big Toe – $23,436
The number of claims filed, denied, and payment amounts by state are updated weekly on the US Department of Labor Website.
Almost all states adhere to some form of the exclusive rememdy provision, meaning that an additional personal injury claim cannot be filed against employers on top of a workers' compensation claim except for specific circumstances.
California Specific Facts and Stats
All California employers must provide workers' compensation benefits to their employees under California Labor Code Section 3700
As of July 10, 2016, California has already seen 11,522 claims filed and a total compensation of $443,375,447.
72% of California workers hired workers compensation lawyers to handle their claims.
57% of the workers' compensation claims in California were to the back.
Reasons for delay of benefits: 36% ongoing medical treatment, 17% employer delay, 17% lawyer delay, 14% finding a lawyer/negotiating, 16% other
In California, the loss of a breast because of cancer is only considered 0-5% disability, so its essentially not counted in terms of compensation. Furthermore, less than 3% of medical evaluators are women.
The average California medical benefit per claim is among the highest in the country with costs more than 90% above the countrywide median.
This high cost of medical benefits are not driven by treatment costs but are driven by the length of time a claim remains open and medical benefits are paid.
California has the highest ratio of loss adjustment expenses (expenses associated with investigating and settling claims) to losses in the country.
The cost of workers' compensation benefits to injured workers is provided by over 500,000 insured employers conducting business in California.
Temporary disability and permanent partial disability comprise over 90% of indemnity benefits in California: 
Indemnity claim frequency was approximately 20% higher in the Los Angles Basin and San Joaquin Valley areas and approximately 33% lower in the Bay Area.
Written premiums in California grow at a double digit annual rate due to higher premium rates and growth in insured payroll.
Despite workers' compensation reform in California, the litigation rate has nearly doubled for all workers compensation claims and more than tripled for claims involving lost time.
Benefit and expense payments for temporary disability claims with an attorney average $30,319 versus $5,598 for those without; while payments on permanent disability claims with an attorney average $66,208 versus $25,300 for those without.